This year, it seems Nigerian singer Adekunle Gold has been on a mission to open up more about himself and his life to his fans. Not too long ago, Adekunle Gold let the world know about his battle with sickle cell. Now, he is opening up a little bit more about his childhood and letting us in on why he decided to get a tattoo at 33. It's quite a story and quite the tattoo. So without further ado, here is Adekunle Gold's new tattoo and his note about why he got it.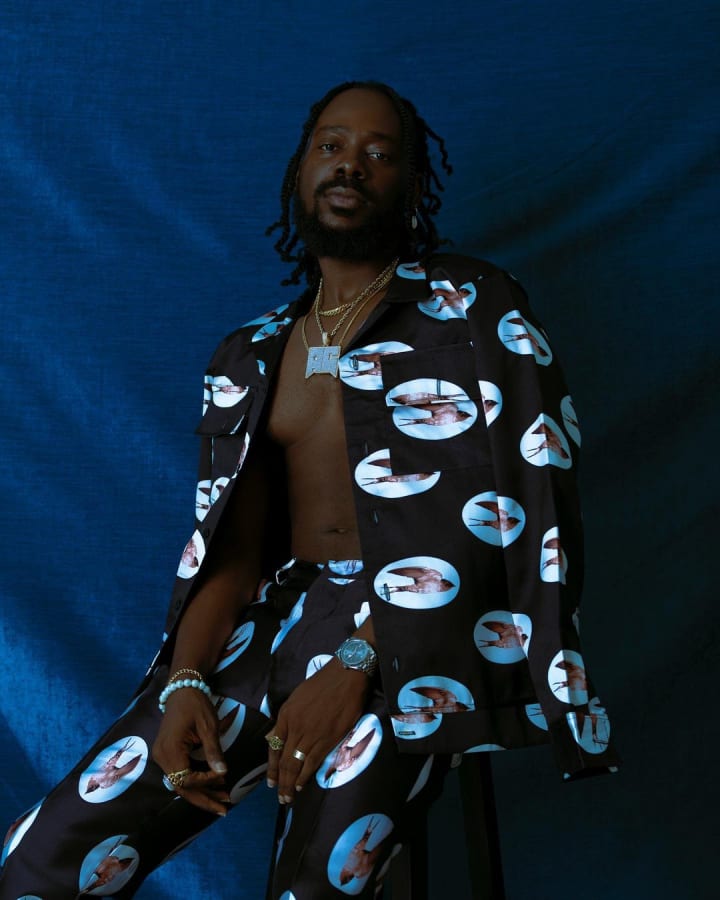 Writing to his fans about the decision to get the tattoo, Adekunle Gold said:
Hey

I've spent the last 2 weeks staring and touching my new ink constantly. I can't believe it's permanent but I'm so glad I did it. It took me 33 years to pluck up some courage to finally get my ears pierced and now I have a tattoo. I'm sure you are thinking that this is a rebellious act? It is not and I'll tell you why later.

I love Miami, it's one of my favorite places for clear mind and peace, that's why I wrote wrote "Okay" there. This time I didn't work on any music, just some body art. After the crazy few months that I've had, I really needed time to unwind and be at home. I say 'home' because wherever my girls are in the world is home to me. The warmth of their smiles brings me all the joy that I need in this world.

I'm only just starting to value breaks and vacations. I never really had any growing up, it was a luxury and privilege that my childhood and upbringing could not afford. Now that I have my own daughter, I want to show her the world, I want to create lifelong, special memories for her, stories that she will tell when she's older, moments that will settle into her heart, and shape how she feels about herself and the world.

Back to my tattoo, I pondered about it for a while, for a few years actually. I have tweeted it so many times that I was going to get one but I was afraid as heck 101 and I would always ask myself this "Adekunle why do you want to draw on your body?" It wasn't until this Miami trip that I connected the dots.

Growing up as children, me and my friends would compare our scars and tell stories about how we got them. Actually it's something we still do as adults. When people see scars on your body they ask you what's the story behind them right? Scars hold memories and stories about our experiences in life. Some are physical and some mental, some positive and some negative but a lot of the times we don't choose our scars. They're imposed on us one way or the other.

Last month I shared my Sickle Cell story with you and some of the memories that I've carried with me from that chapter of my life. I didn't choose the scars that experience left on me. I have other scars, the most obvious ones are from my father's whips. I have to live with those forever. On my left leg, on my back, on my arms. I didn't choose them too and they don't hold pleasant memories.

But I'm at a stage in my life where I'm taking control of all my experiences, past and present. I'm creating pleasant memories that I want to live with. I'm defining who I am and what stories I want to tell the world about myself. I'm choosing my scars as I have chosen this tattoo. It's not so much about the scars but about the stories we choose to tell about them.

I'm sure you have your own stories, scars that you didn't choose, reality and experiences that were beyond your choosing but you have learnt to just live with them and allowed them to become a part of you. You too can take control, maybe not with a tattoo but with a symbol that resonates with you.

My tattoo is on my lower right arm and it's a bamboo growing out of a lotus flower. It symbolizes strength and resilience and the ability to rise above all and any adversity. That's the story I have chosen to tell the world about Adekunle. A boy who refused to back down when no one believed in him, a boy who was so sure of his potential that no adversary could hold him down. A boy who pushed and charged forward towards his dreams until he achieved them.

So what stories are you choosing to tell the world about yourself? How have you allowed your scars shape your mind and how you see the world? Are they holding you back or are you finding strength and resilience in them? Take control of your scars today and create uplifting memories and stories to tell about them.

Here's a picture of my tattoo, here's my story of strength and resilience.

All my love

Tio Tequila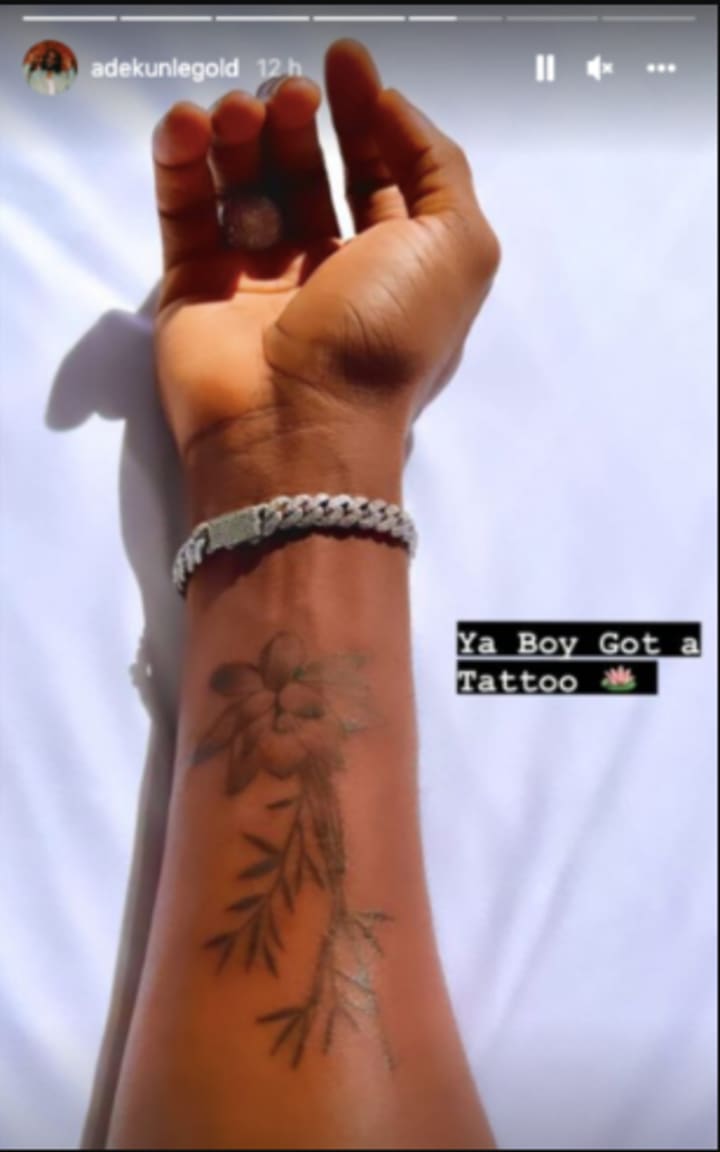 Eyaaa. What a story. So to cover up some of the scars and to make newer better memories for himself, Adekunle Gold drew the tattoo. It is in fact a really nice tattoo. But I'm curious to know what YOU think about it, as well as his decision to get it.