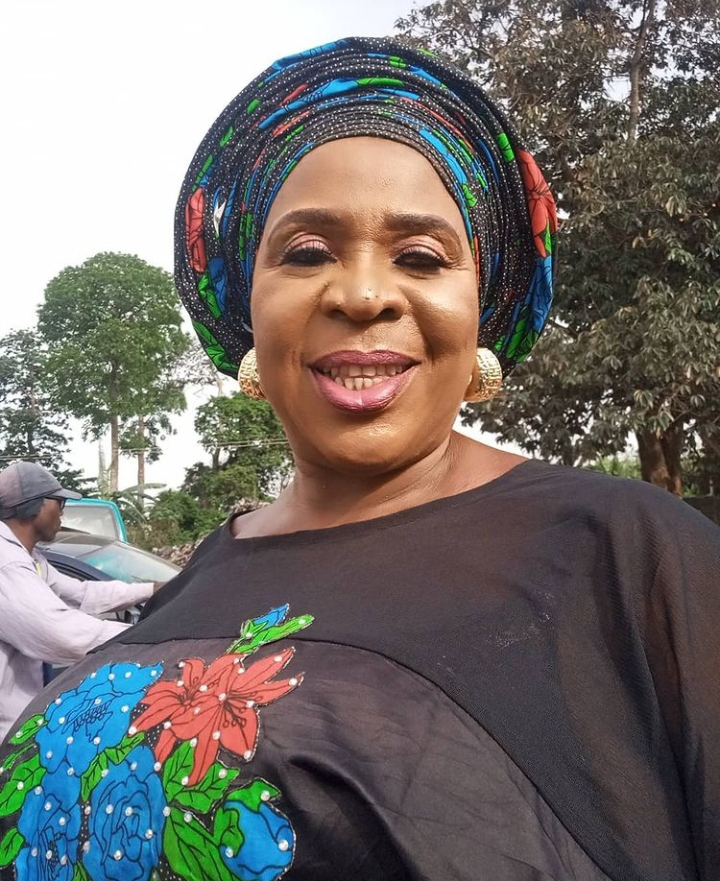 Veteran Yoruba actress, Fausat Balogun popularly known as Madam Saje, in a recent interview with City People has revealed why many marriages in Nollywood especially in the Yoruba movie genre is crashing like a Domino.
Madam Saje is regarded as the most featured veteran Yoruba actress, who joined acting at age 10 under the tutelage of her boss, Rafiu Balogun whom she later married when she was age 18 and their union is blessed with wonderful children.
At City People Corporate Office in Gbagada last week, she was asked about fans' admiration and whether they ask her out as they ask many actresses out after seeing them on TV, the Kwara State-born thespian said, "nobody has ever asked me out, maybe I wasn't destined to have many toasters.
But to be frank with you, there is no how you will be in that
industry that such harassment won't surface but it depends on you as a person.
Someone like me is now a big fish in that industry and there is
nothing you can do again than to face your job and the well-being of your children.
I pray for those who are facing challenges in their marriages today in the industry, may God almighty settle it for them.
When asked her opinion on why many Nollywood marriages are crashing
almost everytime, she said. "It is a bad thing to follow your
colleagues' steps to define your own life.
If someone like me had tried that in the past, I wouldn't have gotten to where I am today, and I always advise them that we came to this world with different purposes.
Taiwo's destiny is different from Kehinde's own. If you are mad at me, the way I am, you are just angry with God because that is the way he created me.
I suffered before I got to where I am now. It is not as if I have money to that extent but I am contented with what I have.
Many have travelled abroad before I did. A woman in London called Iya Isila has invited me on several occasion but I didn't force myself until and it was like a miracle.
There is no latecomer in success. I have been to London, America, Saudi-Arabia, Dubai and all that at my convenient time.
Most of them want to belong, this is one of the reasons many
marriages are crashing in the industry, may God change their mind for better so as to have a stable marriage.
My fellow colleague has done this and I must do my own at all cost, do you know where he/she got the money? As a result, they involve themselves in things they are not meant to do which will cause crisis in the union".
We further asked her about the young actresses who are riding exotic cars worth N15million and more… "where would I see money to buy such?
Though, from the beginning, I don't like big cars like that because, where would I see money to fix the parts or maintain it? But that is the not the same case with our girls in the industry.
My advice for the married ladies in the industry especially those whose husbands are also in the acting industry is that they should stay glued to their husbands because that is how it was destined to be, especially when you have kids for each other.
Most married women stay in the marriage because of their children, not the husband because all men are the same.
If you leave your children, it is as simple as you preparing them for sufferings because another wife will maltreat them.
I, as a person can't leave my children for a minute. My husband married 2 wives and I nurtured my kids alongside my second wife.
This is because this life is too short to be creating enmity for yourself.
I do tell ladies in the industry to be contented with their husbands because other men will always pretend to like you more meanwhile they just want to sleep with you and run away, that is why it pays to make your marriage tight.
I will be 60 in 2 years and I have been married since I was 18 years old", these are parts of what has sustained my marriage, she narrated.