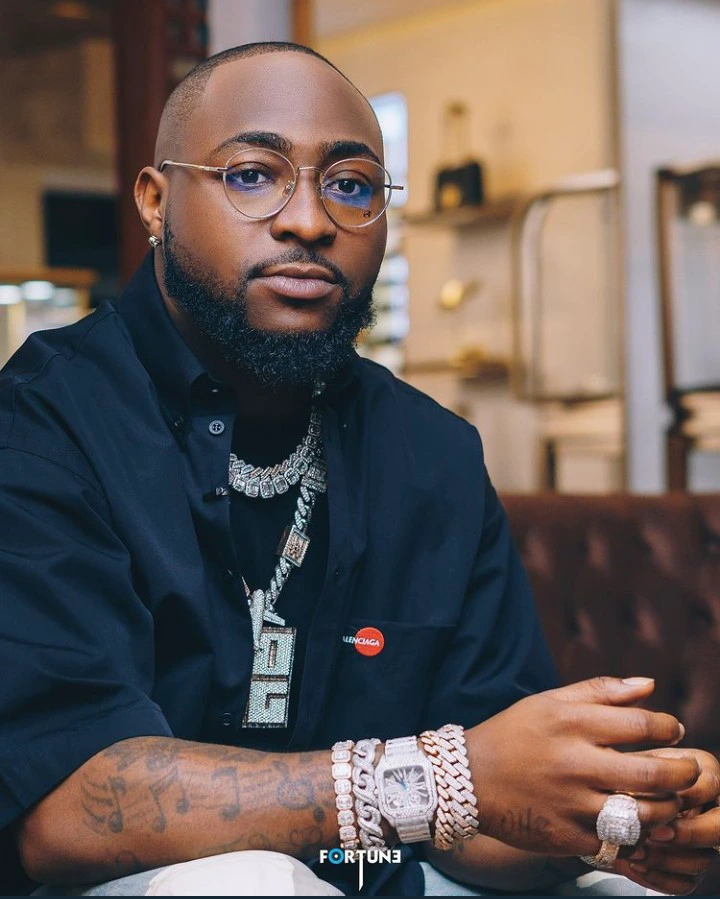 On the 1st of April, 2022, singer Davido was featured on the official soundtrack of the 2022 World Cup set to kick start in Qatar by the end of the year.
This obviously was seen as a big win as singer Davido became the first Nigerian artist to be featured in a World Cup theme song. While fans celebrated him on all social media platforms, it was noted that only few Nigerian celebrities reacted to this great win.
This was noted as social media users compared the way Nigerian music industry would have reacted if one of the other two tier A-list superstars had gotten the deal to feature on the official World Cup song instead of Davido.
Singer Davido who obviously was aware of this nonchalant attitude being manifested daily by his colleagues, made a tweet on his social media page obviously addressing the issue.
"ME vs THE INDUSTRY!!! I LOVE IT!!," Davido tweeted.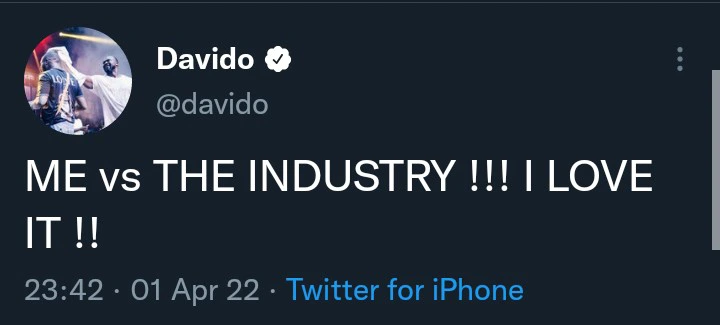 Fans however have continued to react to this tweet while also celebrating the singer.
Below are some reactions from some social media users;
@is_salsu wrote:"There will never be anyone like @davido.There are too many words to describe him, whether it's his music, being a father, his philanthropy, just mention it. Thank you Africa and thank you Nigeria for giving us Davido."
@Simply_Tacha wrote:"DAVIDO DESERVES HIS FLOWERS!! Man has worked his way tirelessly to the top!! (Day in Day out) Doing this for Africa. This representation is big, let's stop playing! He's the actual "Goat". Give the man his flowers!! Love you David.🙌"
@DanielRegha wrote:"Davido gets disrespected alot, & most times for no reason. Majority just focus at his flaws but ignore his good deeds; Whether you admit it or not, Davido is actually one of the reasons most Naija top artistes have gone global today. Give him his due credit & Stan with your senses."
@Omojuwa wrote:"Hayya Hayya Better Together is a solid World Cup vibey football song. Davido has immortalised himself with this one. It's a big deal!!"
@OGB_Recent1 wrote:"Davido remains the greatest artiste in Africa."
@DammyTwitch wrote:"@Davido paved the way for me in the industry. #ThankYouDavido."
@UnlimitedEniola wrote:"Life is well lived when shared with people, give to people who do not have the means to replicate the gesture. As a journalist, I do not take sides, but looking at things critically, you can't but stand for @davido. For the lives touched, the amazing music, I say ThankYouDavido."
@Mdee_Pluto4PF wrote:"Dear @Davido, you truly are a musical artist of the highest calling and you music touches so many on so many levels, spirituality, emotionally, etc. Thank you so much for sharing the beauty of your soul, your music is like a whisper from God. Thank you for that."
@loml02 wrote:"Thank you Davido for making we Nigerians proud, and giving us something to brag with. Thank you for being such an outstanding music icon. Thank you for your kindheartedness. Thank you for being you(A RARE GEM)."
@thisismeeema wrote:"you're rare, you need no validation, you're ultimate and need nothing to prove again..you're DAVIDO!!"
@MarthaXbee wrote:"@davido congratulations on your new level of achievement and recognition from FIFA 2022. You are a real hustler and we are proud of you. You are loved by your fans and don't let anyone make you feel like you are not doing enough!!"