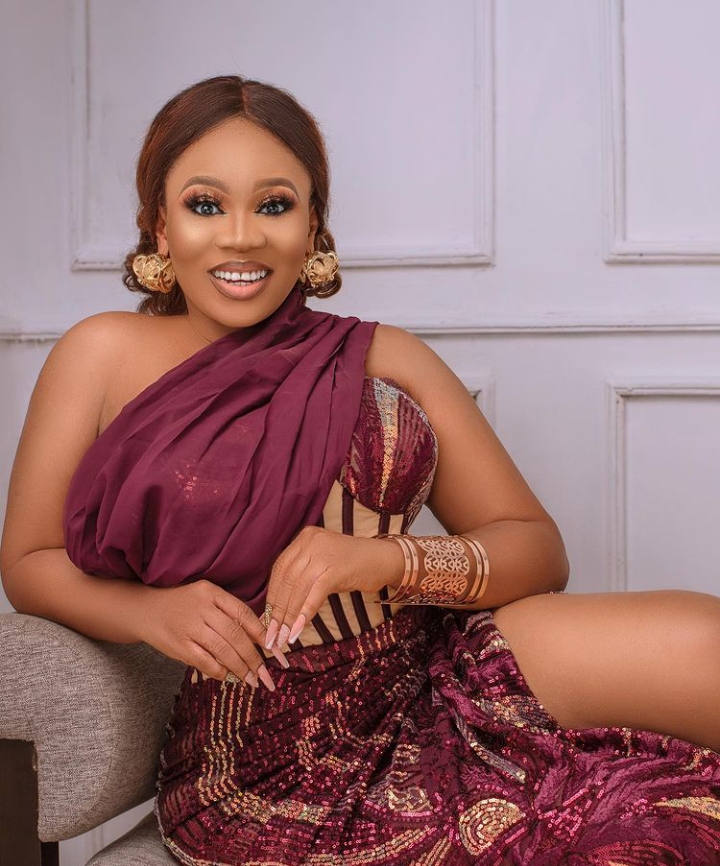 Last week, popular actress Wunmi Toriola, was our guest at the weekly City People Movie Roundtable session. She looked so hot and gorgeous in her outfit. She is a bunch of talent. She is blessed with good looks and brain as well. She joined the Yoruba movie industry a few years ago, and within a short while, she has become a household name. She has featured in over 30 movies and produced 7 movies.
Her role in the movie. "Ajewunmi", which happens to be her first movie produced in 2012, shot her to the limelight. Since then she has remain on top of her game. The very funny actress talked about her journey into the showbiz industry, why people often see her as a very tough person. She also spoke about her marriage to her U.S based husband, how they met and got married. It's very interesting. Below are excerpts.
You are one of the hottest actresses on the scene right now. How does it feel, shooting back to back week in, week out?
Shooting from back to back, the way you asked is actually about God's grace and favour. Some of those that we started together got tired along the line and backed out. Another thing is dynamism when you are only good at a particular role, it is difficult for producers to call you for other roles, but a situation whereby you fits into different roles, you will definitely keep getting roles.
How did you develop versatility?
I have people I look up to at the top, I really don't have a particular role model, those that are doing good, the likes of Funke Akindele. Sola Shobowale, Joke Silva, and a host of others, you see these set of people take up the role of a school girl today, tomorrow they will take up the role of an old woman then what I do again when I get a role is that I google search, when being given the role of a doctor, I google search to see what doctors do, so I put myself into the character, it all really about education, some of us just believe you just come on set and pour everything now. Meanwhile, you can bring yourself in a character to geta better result.
Would you say your looks has paved way for you in the industry?
Actually in a way, but it is not really all about that, like what I started initially. Most people saw the inner beauty I had in me. Though, my look has helped, but not in all times. It is really about what you have upstairs, then the out ward beauty is just a added advantage.
You are often described as a blunt person and even in movies, you tend to showcase that attribute. So is that you? Is that who you really are?
Lots of people tend to misunderstand my being strict to being so blunt am a very straight forward person. You didn't get the right word; they see me as an arrogant person. The truth is that am a very straight forward person and lots of people misunderstanding my personality. Am trying to adjust though. I know my mouth is sharp in most characters I portray in movie but not all. Really it is not my fault.
When am given roles. I always bring myself in the role, and most times, I act troublesome character in movies. You know it takes lots of practicing to get perfect, so after so much practicing, when I now deliver my role, lots of people conclude oh! She must be a very troublesome person but really am not.
So what are your challenges as since you started acting?
I started acting professionally in 2012. Challenges for me in the industry hmmm, there have been a whole lots of ups and downs.
As a growing actor, I don't use upcoming the funding of most of our projects, like me, I have produced like 7 movies. You investing in a movie, and not getting much at the end of the day that has been a challenge.
In all these, what has kept you going?
What has kept me going is consistency and it is something I learnt from my grand mother, that when a goldsmith keeps digging a particular place, he will keep digging because he knows, he wants to get something from there, and when he keeps digging without relenting, one day, it will materialize. I realized I have been consistent and truly. It just started paying for me now.
Where were you born and what was your growing up like?
Ok, I was born in Lagos, from the family of four, my father is a disciplinarian to the core. I went to secondary school in Lagos, then proceeded to Lagos State University where I had diploma, them proceeded to University of Ilorin, where I had my Bachelor in Art. Acting was not just it lecturing and law was it for me. So, for me to convince my father to start acting was a whole lot of work for me. At first, because he is not based in Nigeria, but in the U.S. So when he is in Nigeria, I don't go to location. I pretended for a while, and he doesn't even watch Yoruba movies, but three years ago, his friends started calling him that they see Wunmi on Television. He called me and asked if I was serious doing it, so he just advised me as a father, because at that time, there's nothing he can do about it.
What about your mum?
I lost my mum at a very tender age so it's been about my father and my grandmother.
So has that made you independent and stronger in life?
When you are brought up by a man, your kind of mentality will be different, I was not pampered, my father has always be there for me financially but I do a lot of things myself without seeking for help or assistance. Sometime, as young as I was I pay my school fees, even in my primary school. I just go to the principal's office and pay my fees. So that's the way I was brought up, and that has been a part of me. So I became very independent at a very tender age. So am fearless, through.
It still has its disadvantage, like at times there are some places or instances that i'm suppose to behave or act feminine but am always masculine. So right now am trying to get it right, fame is helping me reshape my life.
How do you feel about the fame you have now?
It makes me feel that hardwork pays, it makes me happy and makes me want to work harder in life, and it has also restrict me from doing a whole lots of things. On a normal day. If I hear you say things about me, the normal Wunmi will come to your house and confront you so we can settle it once and for all, but fame has changed lot of things about me. I will just pretend like I am not hurt and just let things go. I miss that part of me. And am also grateful to God Almighty, that out a whole lot of actress out there, am still noticed, so it simply means, am doing something right and am also very grateful to my senior colleagues they have been very supportive.
Which movie shot you into the limelight and most challenging for you?
The movie that shot me to limelight is titled "Ajewunmi," I am not much of a story writer but I wrote this particular movie, and it come out in 2015, I did the screen play with Bayo Tijani, Ibrahim Chatta and host of others.
The movie "Ajewunmi" is my own Jenifa, though I have featured in movies and the roles are very challenging, like "Babatunde Folorunsho" where I had to play the role of an imbecile, for few days, I didn't still get my neck right and a whole lot of movies like that, when a movie is very challenging, after one or two days. I get over the role.
Before I started acting, I use to read a lot the school of thought says it is better to do things you have passion for, even if the money is not much, than doing something you don't have passion for but the pay is much, so in my own case, I engaged myself in something else besides acting especially, when acting was not paying, but right now acting is paying me well to some extend. Sometimes, I don't even look at the monetary aspect because am enjoying my job.
Do you have actresses you look up to as role models in the industry?
Yes, I have people I looked up to in the industry, I only looked up to them in acting. Like Funke Akindele, Joke Silva, Toyin Abraham she is a good actress, that's all.
Why the choice of a secret wedding?
I didn't do secret wedding, it was a loud wedding, the only thing I didn't' do, was that I didn't put my spouse on the internet before the wedding.
How did you meet your husband?
He saw me in a movie, and it happened. I don't like to talk about it, laugh! He saw me in a movie and we chatted via Facebook and I rarely do facebook, and everything just happened.
You need to tell us…
Hmmm, we chatted on Facebook and he was like, let's go out, and I agreed it was just as if. Someone used something on me, because am usually not like that.
How easy was it for him to convince you to marry him?
It was really easy, sometimes. I even use to tell him, that he got me so cheap. Because that's not me, and that's the main reason why I actually feel, he is truly my husband, because naturally I am a very tough girl. I am not just the normal girl, that you can say syllabus will make her bend. Sooner how I went on cheaply and I was like, let's see how it will go and it went well.
You made a statement on Instagram, that Nollywood is filled up with fake people, what do you really mean?
Please don't believe everything you see on Instagram. Yes, many people in the industry, tend to live above what they can hardly afford. They live a fake life, sometimes. It is not really about Nollywood, also our fans expect for much from us, and it is only few people that have made up their minds that they won't bend, that still survive it. So it takes people that don't have mind of their own, that always want to fake it. But to me fake life is expensive because you need to start spending to keep covering up. Our fans please kindly mercy upon us because most people don't have mind of their own, so they bend with pressure.
So what is your relationship with Toyin Abraham now?
Yes, a colleague kind of relationship. After the incident, we met and talked and that settled it. That is why I keep telling fans, please don't interfere in most of this things. It is ok, every thing is settled now.
How often do you get jobs and what is the pay like, though I know you might not want to say it?
Let me explain, I get like 4 to 5 scripts in a month and I get paid well for all my jobs, I think it is an individual thing and how you started count as well.
I saw future in my career, that is why I decided to do it. I have always seen myself at the top of my career, how a producer pays, depends on how they negotiate with the actor in question. When you price for low, I will just say ok, I don't bend, they will always come back sha ni. It is not pride o.
Are you into any other business aside acting?
Yes, I am into event planning, also skin care products.
Lot of Yoruba actresses are into skin products why?
Do you know why it's like that, the fans believe so much in what they see, and most of us look good because of our kind of profession. So when they see us, they will just be like Aww! I like your skin, and we will just be like this Aww! Aww!! Let's make money from this now and that is why you see lots of us going into it.